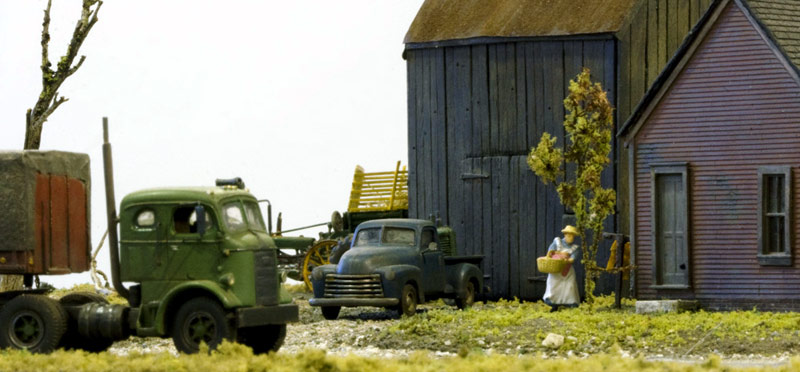 Module by Chester Fesmire, Photo by Andy Madden
Route87 is a concept that we're developing for the world wide interconnection of 1/87 (HO) scale vehicle display modules. Althought the concept is extremely simple the discussion and time spent to bring together some basic standards and recommended practices has been enormous!
In short, our Route87 concept is a set of standards and recommended practices for the construction of realistic display modules for the sole purpose of providing a common platform for displaying 1/87 scale vehicles. We anticipate these new standards opening a whole new window into our little world of 1/87 scale vehicle modeling!
We'd like to publicly thank Marlon Spencer for first suggesting the concept, Ralph Ratcliffe for all his work on the dimensional standards and continued development of the concept, Andy Madden for creating and maintaining the Route87 web site, and demonstration display modules from Chester Fesmire, Joe Fay, and Steve Del Sesto. Thanks to all these guys!
To promote standardization and interconnectivity some very basic dimensions must be adhered to (see details below). We firmly believe these are the best dimensions to accomodate artistic freedom within the constraints of portability and durability. They are, of necessity, compromises of all kinds to be sure. The ciritical dimensions are the 6" height at the ends, roadway offset, and depth of the module.
Route 87 Basic Module Dimension Standards:

Depth (front to back) - 18" (18-1/4" including masonite front and back panels)
Height (top to bottom) - 6" at ends
Length (left to right) - unrestricted (2'-4' recommended)
Roadway offset (from front edge) - 3.5" to roadway centerline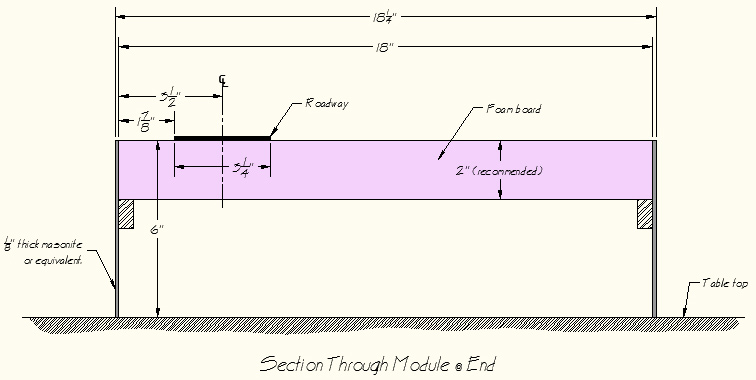 © Drawing courtesy of Andy Madden and Route87.org
Below are several photos of Chester Fesmire's demonstration module he built for the 2010 East Coast Meet in West Springfield, MA.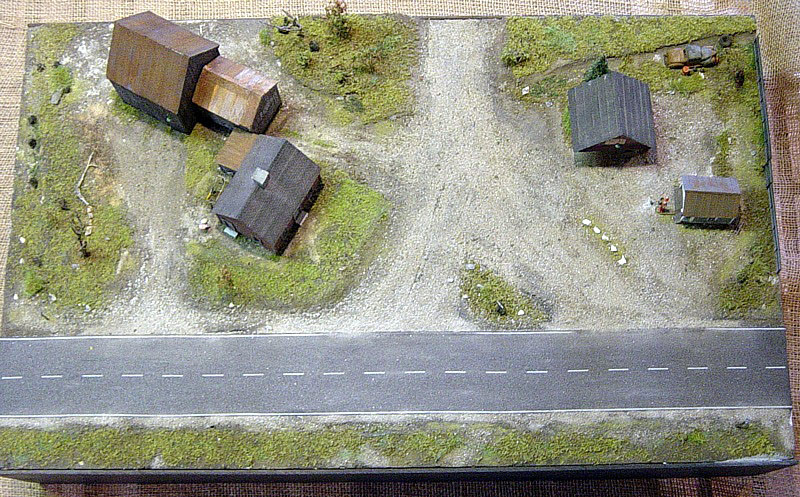 We demonstrated a limited number of these display modules at the 2010 East Coast Meet in Springfield, MA this past January to an extremely enthusiastic crowd reception! Watch our Photo Gallery section for additional upcoming module photos showing just how effective this platform can be for displaying 1/87 scale vehicle models as shown by Chester Fesmire's module showcased here.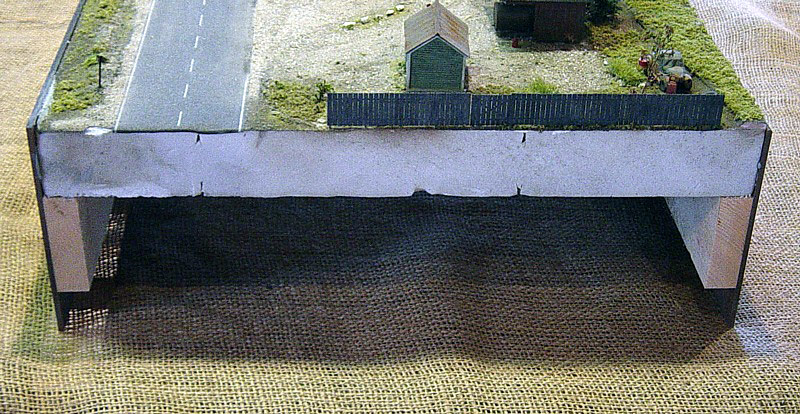 We are really looking forward to nurturing this concept and seeing just how creative all of you can be. If you have any comments or questions please refer to the Route87 web site or contact us. [posted 01/28/2010]