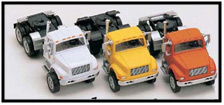 I'm sure volumes have been said and written about the Boley cab since their debut; it's a love/hate relationship. When you factor in availability and economics the Boley cab quickly becomes a top pick for 1/87 vehicle kitbashers like me. The older 4900 series Boley cabs are solid die cast and offer little wiggle room for extensive kitbashing. The grille and bumper are painted making modification difficult without completely repainting the unit.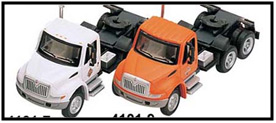 The next style to choose from would be the 4300 series cab. There is not a lot of manufacturing difference in the 4300 versus the 4900 series. Kitbashing is equally difficult due to the painted one-piece cab, bumper, hood and grille. If your prototype does not call for bumper removal this is a good choice.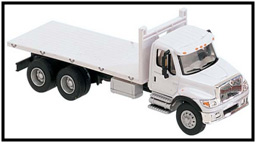 The 7000 series cab is my favorite Boley International cab to work with for kit bashing. This version's manufacturing changes greatly helped kit bashers. The grille is plastic and detachable from the hood. Most importantly the bumper is molded separately in plastic and easily removable. After the mounts have been ground off the bumper is able to be saved and remounted later. The mirrors are also an improvement from the first version. The interior of all three versions is detachable and can be detailed before the cab is permanently attached to the chassis.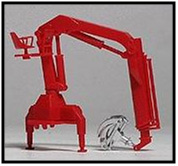 This model is based on the Palfinger brand of European cranes. These prototypical cranes have found their way across the Atlantic to many U.S. MOW (maintenance of way) fleets. This HO scale model has great detail, is affordable at about $7.00 per unit and can be completely separated into individual pieces for modification and painting. Once separated the parts can be painted more prototypical colors. Reassembly is simple as all the parts snap back together. The crane is easier to mount on certain chassis with base plate tabs removed. With a small amount of CA glue in the right place the base plate can be permanently attached to the crane while maintaining the functionality of the outriggers.
This is a good model at the right price. This will eventually be the Roto Dump box.
My Materials List:

Tandem axle Boley International truck – white
Herpa Hiab crane
Promotex gravel trailer
Promotex ladder set
Styrene sheet (.010 thickness)
Styrene tubing (3/32)
Styrene angle (.080)
Styrene channel (.080)
Chain (40-60 LPI)
Plano model products 12" crossover steps
Plano Apex mesh (.080)
Plano front bumper posts
Smooth paperclips (Two Large)
26 gauge black and silver floral wire
N-scale train wheels
New black paint brush bristles
Arrow hobby red/white safety stripe decals
Custom decals / fixative spray
CA type glue
Spray paint (white, orange, black, silver)

Tools used:

Hobby saw with miter box
No.2 hobby knife w/new (sharp) blade
Jewelers screwdrivers (Phillips & Flat)
Hobby files (round, flat, triangular)
Pliers (side cutters, needle nose, bull nose)
Tweezers (w/adjustable tension)
220 grit sandpaper
Sharpie markers (black & silver)
Spray painting equipment
Detail paint brushes
Pencil

Estimated Project time: 12 hours

This picture above shows the previously seen finished unit on the left. The gravel trailer is straight out of the package. The crane has already been disassembled and painted Palfinger orange with hydraulic cylinders black and rams painted silver. Outriggers are black with the pads orange. Individual controls and features can be painted by hand at a later time. The Boley chassis is straight out of the package with the body removed.