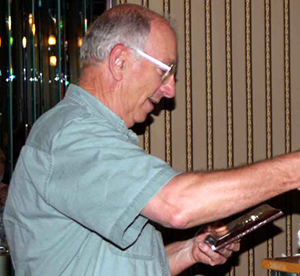 "Dan [Goins], I just wanted you to know that Bob passed away last evening on 6/15/06. Please let members know of Bob's passing. The Club was very important to Bob and we enjoyed the shows. Thank you, Judy Leinbach" [posted 06/16/2006]

With this very simple note from his wife Judy we learned that Bob Leinbach had passed away after a lengthy bout with cancer. Bob was always a fixture at our west coast gatherings and was instrumental in raising the bar for many truck modelers. He is shown above receiving a modeling award during our 2003 National Convention in Allentown, Pennsylvania.

You can view much of Bob's outstanding modeling on our Photo Gallery Index Page dedicated to Bob.