Please note: The opinions expressed in our reviews are the views of the reviewer and do not necessarily reflect the views and opinions of the 1/87 Vehicle Club.
model critique by Bob Johnson

Back in March of this year (2012) we posted an announcement of the "acquisition" of the Boley vehicle lineup by Walthers. Walthers is now distributing the former Boley International trucks and bus models manufactured by Hongwell in China. Shown above are samples of the Walthers packaging and some of the current offerings. Walthers has chosen some of the most popular items to offer. We don't have any information of whether the entire line will eventually be offered but the currently available lineup is extensive.

Shown above are our samples of the International 4300 series truck tractors (above, left and center) introduced in 2001 (see our original announcement from February 2001) and the earlier 4900 model (above, right). Our samples feature fuel tanks on both sides under the cab doors, upright exhaust and spoke wheels. Each has the appropriate style mirrors mounted on the cab doors. The grilles and bumpers are painted on the cab/fender casting, the same as the original product. We'd really like to see separate grilles and bumpers at some point; these would be great additions and upgrades!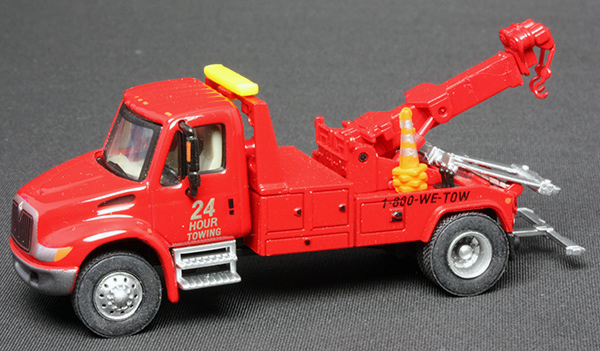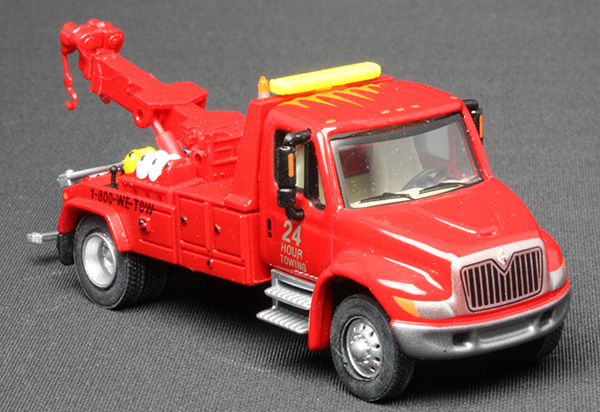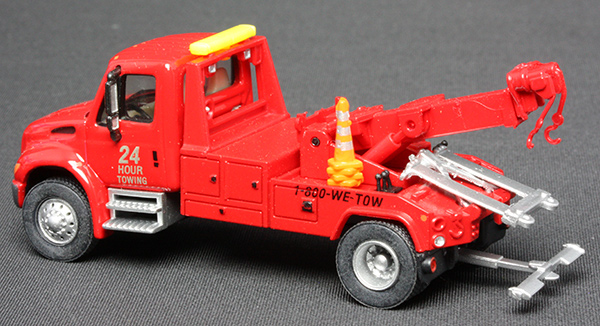 Arguably one of the best models in the Walthers lineup is the 4300 tow truck model. Body closely resembles one of the Miller Industries prototype offerings. Our sample features a really nice red paint job with well executed pad printing for the door logo and phone number on the tow bed. The wheels are the excellent 10 hole disc renderings from the original models. All of the details on the bed are movable. The orange traffic cones and gasoline cans on the bed are very nice detail touches.
We would like to thank Michael Stephens of Walthers for the opportunity to review these models. Just like the original models, these are very good models suitable for dioramas, collections, and railroad layouts of the applicable time frames. The 4000 series models were announced in 2001 with production beginning the same year. The earlier 4900 models were introduced in 1989 and produced until 2001 and the introduction of the 4000 series. The 7000 series, also part of the current Walthers lineup, was also introduced in 2001.