When Rietze published pictures of the new SEAT Altea minivan on their website a couple of days ago, I was happy to see the model much, much earlier than I had hoped Rietze would have been able to have the tooling ready. I was even happier when I sent them an e-mail with a list of questions and received a response in the form of a pair of promotional models, with the polite implication these might serve as material for a review. I was most happy to take the hint.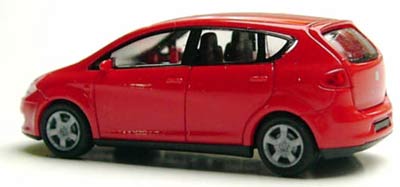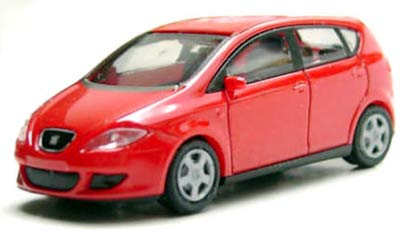 Introducing the Altea as a design study at last year's Frankfurt Auto Show, SEAT earned many smiles – they had done a 2+2-seater minivan! It would become the first production car to bring SEAT's slogan "auto emoción" to life: Unlike its Volkswagen brother, the Touran, SEAT certainly did not forget to style the Altea. Earlier design studies they had brought to various motor shows proved SEAT designers were capable of drawing beautiful lines, but the cars they actually sold, while always good, were a bit unimaginative: So very Volkswagen; so little Hispanic heat.
Although the Altea was marked as a design study, SEAT announced the street version would differ only in details. They kept their promise. The 2004 Altea had to give up the study's huge show car wheels and got one more seat for practicality, but about everything else made it into production – even the A-pillar housed windscreen wipers. Not by coincidence, the car's lines look more than faintly familiar: SEAT's new design director, Walter de'Silva, used to draw the stunning shapes of Alfa-Romeos. And we are promised the lines will be carried on by future SEATs.

Essentially, the Altea is a compact car based on the new Volkswagen Golf Mk5's platform (shown above, left for comparison). It carries over its brother's wheelbase of 8 feet, 5.5 inches (2.578 meters). Lengthwise, it sits right between the Golf and the other Golf-based people-carrier, the Volkswagen Touran (which sits on a longer wheelbase). The engines, inline-fours all of them, range from 102hp to 150hp for the time being, among these Volkswagen's newest direct-injection FSI petrol (gasoline) and TDI diesel motors. The times when Seat had to make do with previous-generation diesels are history now.
To most Americans, the SEAT brand will be unknown. The acronym stands for Sociedad Española de Automóviles de Turismo S.A., or Spanish Touring Car Corporation. SEAT was founded in 1950 by the State of Spain, with production starting three years later: The first car ever to wear the SEAT badge was called the 1400, just like the FIAT sedan it copied in almost every other detail. With the idea in mind to make a set of wheels affordable for the average factory worker, an idea a certain Henry Ford had brought to perfection before, SEAT had acquired a license and started to manufacture FIAT subcompacts rather than import them. The little 1957–1973 SEAT 600 would be the first set of wheels for many a Spaniard. One after another, even larger FIAT cars were produced at the Zona Franca plant in Barcelona.
Planning to make SEAT a publicly-owned company, FIAT was bought out by the state in 1981. As the long-term strategy was to establish a strong, independent brand, the new owners sought partners with a reputation: Italian master designer Giorgio Giugiaro, Porsche's design and development center, and Karmann coachbuilders all did their part in bringing the first Ibiza to live in 1984. It would become the first SEAT not based on a FIAT model. From 1982 on, Volkswagen had SEAT assemble Passat and Santana sedans in Barcelona and Polos at their Pamplona site. Only four years later, Volkswagen purchased the majority of stock. It would take until 1991 for the first SEAT to make extensive use of Volkswagen parts – the Toledo.
That Toledo Mk1 was soon joined by the first new 1/87th scale SEAT in years, made by AWM. At that time, there were only a couple of older SEATs available from Eko, plus a few FIATs that required very little work to badge them as SEATs. However, it took until 1997 to see other current SEAT models. AWM won the promotional contract and developed the Arosa minicar while Herpa made the Cordoba SX three-door subcompact and the Alhambra minivan that, like the Ford Galaxy, was a clone of Volkswagen's Sharan. Only a year later, AWM made the Toledo Mk2 sedan for SEAT. It was only in 2004 that SEAT decided they needed promotional models once again. This time, they asked Rietze.
Rietze surprised everyone – and pleasantly so – by announcing the Altea MPV at the 2004 Nuremberg Toy Fair. Although they could not show any samples in February, Rietze explained the model would be available soon, as SEAT had asked that the models be available for the prototype's dealer presentation. And Rietze delivered. In mid-June, the first pictures appeared at the Rietze website (www.rietze.de); immediately afterwards, I received a parcel with two models to be reviewed; the result of which you are currently reading.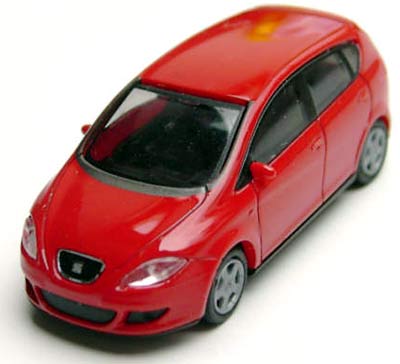 It is always excellent news to get a model of a prototype that is not part of the German car makers' range. As most scale cars nowadays result from industry underwriting, and the German makers appear to be the only ones to be interested in 1/87th scale, the selection of vehicles tends to cover everything Volkswagen, Mercedes, Audi, or BMW produce – but we are missing so many other nice automobiles that are available as prototypes.

So, it's good that the model is there, but is it a good model? Yes, definitely, despite some drawbacks. SEAT required an inexpensive model to be used as a giveaway. Hence, it comes without a free-standing interior mirror or chrome-plated parts. However, Rietze went so far to paint even the non-metallic version! The paint job is improving, but unfortunately, Rietze has not yet reached Wiking's particularly high standards. On the other hand, the metallic version pleases the viewer with an additional layer of clear coating to equal the real cars' paint gloss. The tooling is crisp and clean, with engravings being clearly visible even under a layer of paint or two. The model as a whole neatly follows the prototype's theme. Perhaps the dramatically carved edge on the car's side panels could have been modeled more prominently on the scale car. While transparent inserts for head- and taillights are common practice today, Rietze's ability to tightly fit windows into a model's body must be praised with each of their models. The windscreen's sealing is printed on both the glass part and the body to catch the prototype's style. The prominent logo and model name on the backdoor have not been omitted, and the front grille insert comes with a logo and silver frame as well. Although the wheels are see-though parts, Rietze once again managed to let them look too small – despite the 16 scale inches they measure are dead on compared to the prototype's rims. On a model, larger wheels always make for a less toylike impression. Maybe Rietze will learn that lesson one day. As for the interior, it is a rather simple one-piece part, but all important aspects of the prototype have been dealt with. As the interiors are always molded in black, further attention to detail would go unnoticed anyway – and Rietze does not annoy collectors with a molded-in steering wheel as the market leader tries every now and then…
My wish list for Rietze is short: Give it larger wheels and keep on working on the paint job; perhaps try to design and fit the lights as neatly as the windows. Apart from that, please continue to model the occasional prototype the larger players will ignore. And thanks for such a nice addition to any European scale car collection!
Marc Schmidt