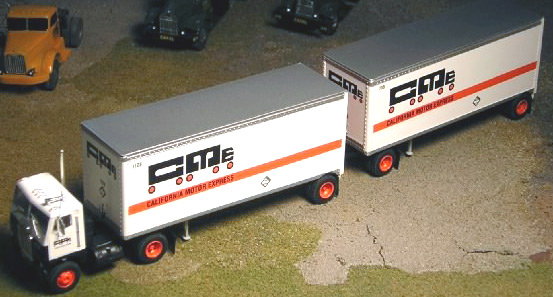 This CME rig was Gary's first "corrected" Athearn pup sets and says it was a rather enjoyable one-evening project. Although Gary says he never saw a CME rig in person he's always liked the logo and figured that the black and white paint would be easy to touch up. His reference material was the relatively few CME photos that he could find on Hanks Truck Pictures web site.
Out of the box, Athearn's 4x2 FL COE is an 86" sleeper with a 143" WB. The wheelbase was shortened to 120" and the cab was cut down to what ended up being 54" BBC. 51" is prototype but the design of the cab interior parts made it too difficult to get down to 51" so Gary settled for 54". Gary replaced the mirrors with A-Line etched mirrors. The exhaust stack was frame mounted and Gary scratchbuilt from Evergreen styrene one of the Farr "box" air cleaners which were common on fleet COEs in the '70s. The prototype had only 2 headlights, so Gary painted over the inner headlights to hide them which, he notes, really changes the look of the truck.
The trailers were relatively unmodified save for moving the kingpins back to the pre-STAA setting of 36" and installing a Detail Associates eyebolt on the pintle hook base on the rear of the trailer. The eyebolt was then spread open to allow the dolly to be hooked to the trailer. The trailer landing gear was untouched only because no one sells Fruehauf style landing gear.
Microscale license plates all around finish off the model. While Gary says he didn't modify the trailer or dolly length, visually the truck has the proportions of a set of pre-1983 pups.
Posted August 19, 2007